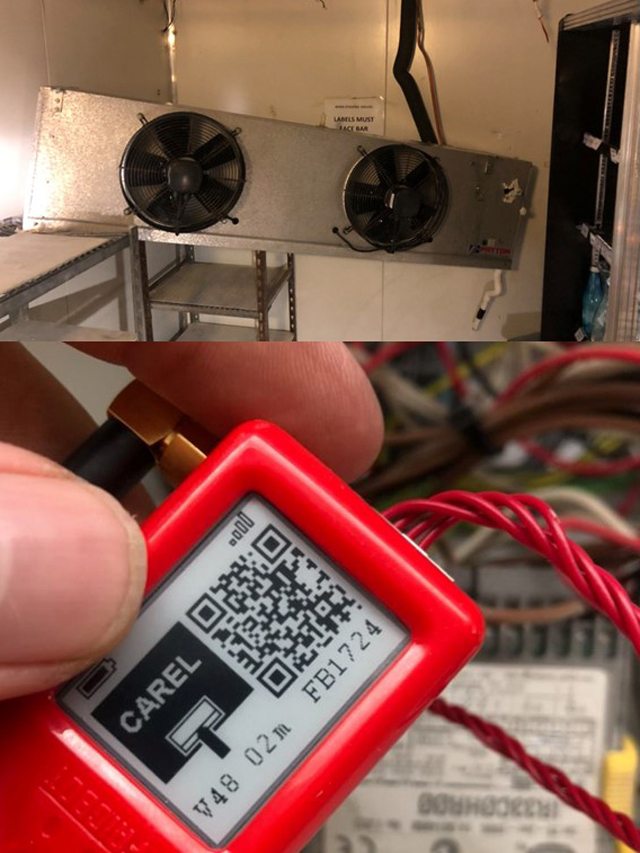 At 9.09pm last night, I received a 'High Temperature' alarm from one of our remote temperature monitoring Frigbot at the Caloundra Power Boat Club. I contacted the manager and met onsite ASAP.
What we found amazed me…
The bar coldroom had been turned off at the control switch, isolating the fans and power inside. The unit must have had a leaking solenoid valve, which was making the unit run and short-cycle. Over the last 3 weeks, this lead to a huge block of ice forming on the back of the evaporator, adding more and more weight each day. Eventually, the support hangers gave way and the evaporator dropped from the coldroom ceiling, landing one end on the shelf, the other end kinking pipework and dangling precariously. This also pulled the electrical cables from the junction box, causing a dead short to earth. This dead short proceeded to trip the refrigeration sub-board main switch, hence dropping power to the freezer refrigeration unit and eventually activating the Frigbot high temperature alarm!
Talk about series of unfortunate, but coincidental events.
None the less, we isolated the power to the dangerous areas and returned power to the freezer. Crisis averted!
All in a nights work! 24/7/365
---